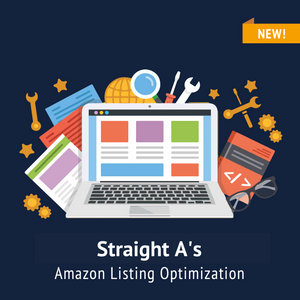 Straight A's Amazon Listing Optimization
Sale price Price $895.00 Regular price
Inject conversion-spiking creativity into your Amazon listing and A+ Content to take your sales to the next level! Meet our brand new listing optimization package that's the perfect fit for brands that know the keywords they want to use and need to amp up their "Add to Cart" edge.
Package Includes:
Title
5 Feature Bullets
Competitor Research
A+ Content Copy (Formerly EBC / Enhanced Brand Content) - $495 Value
Creative Lead with Guidance on Best Modules and Images to Use - $200 Value
3 Infographic Texts -$165 Value
1 Round of Revisions
3-Level Quality and Creativity Process


Always On Time Delivery
*THIS PACKAGE DOES NOT INCLUDE IMAGES OR DESIGN
Want to maximize your listing's searchability and safeguard its salability?
Add a Product Description for just $155! 
Need a bunch of Amazon listings optimized? Have a catalog with a lot of similarities?
Contact us for custom pricing options at +1.573.864.2010 or hello@marketingbyemma.com.
*We provide persuasive text for 3 images and copy for your A+ Content. Client is responsible for editing text into images and creating images for A+ Content.
How it works:
After payment we'll send you an easy-to-follow questionnaire to help us learn all of your product's ins and outs.
As soon as you send the answers, your delivery clock starts ticking. Delivery fluctuates depending upon the season, but typically stands at 18 business days from receipt of information.

 

*If you need faster turnaround, call +1.573.864.2010.
We review your questionnaire to make sure that we have all of the details we need. If we do, we'll send you an email giving you a firm delivery date. If not, we'll send some clarifying questions until we have what we need to dive in.
On or before your delivery date we'll send you an awesomely optimized Amazon listing!
Take some time to read it over. If you have questions, concerns, or changes you'd like to make just respond via email and we'll make the necessary corrections within 7 business days.
Over 250 Five-Star Reviews!
Knock your listing out of the park with outstanding additional infographic text creation services! Optimized images elevate your listing, instantly.
Infographic Text
From $55
Maximize every inch of your Amazon real estate with our infographic text service. We will create compelling, punchy text that will draw customers in and make them click "Buy Now!"

*Infographic text does not include photography or design. Must be purchased with a package or standalone Amazon optimization product listing services.

Select how many infographic texts you'd like, then let us work our word wizardry! Choose between 1, 2, 5, or 8.
All our services include:
ALWAYS ON-TIME DELIVERY
Since 2016, we have served over 1,000 clients and have proudly NEVER missed a deadline.

Our thorough intake process and prompt response time ensures your project gets moving the moment it hits the pipeline.

Delivery typically stands at 18-25 business days from receipt of all information, but we always do our best to accommodate your deadline needs. Have a tight timeline? Call +1.573.864.2010.


THREE LEVELS OF QUALITY CONTROL
Every listing undergoes a three-step quality control process to ensure the final result is the best version it can be before it lands in your Inbox:

1. Thorough questionnaire and brief intake.
2. Writing by one of our creative copywriters.
3. Careful editing by our expert editing team.

Additionally, all Amazon listing optimization services include one round of revisions to ensure we get your listing just right.


AMAZON EXPERTISE
It takes more than great writing to succeed on Amazon. From knowing what you can and can't say to understanding how to work with Amazon's algorithm, our team works to stay on top of the latest updates, trends, techniques, rules, and tools.

Our Emmazon team is on a constant quest to educate ourselves and our community so we can continue to deliver the very best quality.
Not sure if this package is right for you?
Let us help!